Practicing Pharmacy Vaccine Administration – Mandatory Requirements
UPDATED 3/19/2020
In an effort to keep the public informed, please note the following updates regarding immunization administration by pharmacists and pharmacy interns.  Have you ever asked a pharmacist or pharmacy intern to administer a vaccine ordered for you?  Why or why not?  If not, does this new information change your opinion?  We remain hopeful that a vaccine protecting against COVID-19 will soon be FDA-approved and marketed in the USA.  We do not have a vaccine to prevent this virus now, but there are many other routine immunizations that are needed for general health at all ages, as well as immunizations for international travel, once that becomes safe again.  Please talk with your pharmacist about your immunization needs today!_______________________________________________________________________________________________________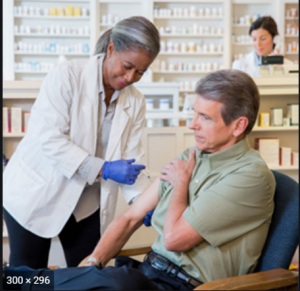 On March 18, 2020, the State of Ohio Board of Pharmacy issued mandatory requirements for pharmacies to implement safeguards to ensure pharmacy professionals practice in a safe and effective manner. These requirements can be accessed by visiting: www.pharmacy.ohio.gov/COVIDsafe
On March 19, 2020, the Board issued an update to these requirements clarifying provisions on immunization administration as follows:
·    Pharmacists and pharmacy interns shall no longer be permitted to administer immunizations or other injections without standard protective measures, which includes gloves and proper hand hygiene (i.e. routinely washing hands with soap and water for at least 20 seconds). Standard protective measures do not include the use of masks or gowns.
·    Pharmacists and pharmacy interns shall not administer any immunizations or other injections to patients displaying or reporting symptoms of respiratory illness, including any of the following:
·    Fever (NOTE: This does not require mandatory temperature checks);
·    Cough; or
·    Shortness of breath.
These updated requirements can be accessed by visiting: www.pharmacy.ohio.gov/COVIDsafe.