Tai Chi Easy Classes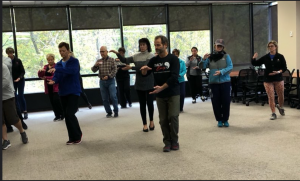 Miami Township Civic Center
6101 Meijer Drive
Milford OH 45150
Session 1: Tuesdays, August 11-September 15; 6:30-7:30 pm
Session 2: Tuesdays, September 22-October 27; 6:30-7:30 pm
ADULTS/TEENS – $60 Miami Township Resident, $70 non-resident. Pre-registration required. Limited space for your safety. NO DROP INS.
Tai Chi Easy is a teaching method created by Roger Jahnke OMD that anyone can learn. You will learn five movement forms by the end of six weeks, enjoy the calming, emotional and health benefits in a safe environment, and have fun with others who desire improved health and balance.
Tai Chi Easy has four components: Mindful Movements, Breathing Practices, Self-Applied Massage, & Meditation. This modality can be practiced while standing, sitting, or in movement so that seniors will be comfortable joining in.
We will provide a lovely, retreat-like atmosphere in the Miami Township Civic Center for your relaxation and joy. Social distancing and any needed precautions will be implemented for your safety.
Dr. Rosenbaum is a practicing holistic clinical pharmacist and Tai Chi Easy Practice Leader who traveled to China years ago. There she witnessed Tai Chi being practiced in large groups in early morning hours out-of-doors with splendor and in silence. It has been her lifelong dream to recreate a similar health program in the USA.
Please direct your questions to Miami Township Recreation Department at (513) 248-3727 during business hours which are Monday through Friday 8:00 am until 4:30 pm.
Register online at: www.Register.MiamiTWPOH.gov